Self developement and Learning on the go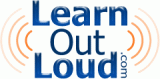 I stumbled upon a great websites they are many like it or that are similar or try to be like it but this one is just unique and is definitely worth your time to have a look. Learnoutloud provides
Audio Books, Podcasts, and Video You Can Learn From
, covering over literally hundreds of categories , inspirational audio, self development podcasts resources, business, relationships, and to insightful and educational materials covering language, literature, history, and religion, your might have a desire to deepen your spiritual or philosophical interests the sites has something for everyone.
Learnoutloud is probably one of the only sites that I have come across that pertinetly archives materials in a easy way to get your hands on, the content is absolutely great very professional stuff not just your armature stuff, but real stuff from gurus at their niches.
We all have a couple of hours a day on your way to work, college etc driving and what better way to utilize your time than to listen to a podcast or and audio book and grow your self, learn something new everyday. This site has definitely caught my eye and am hooked wouldnt be blogging about it if it didn't impress me. I came aross some great materials on perosn development I will be posting some reviews on materials that I think are worth the buy In the next coming weeks, Something a litte bit different from my normal blog posts. "wow" thought would never mention non free stuff on this site, but to be frank some things are best bought, give back to the people who put endless hours in creating stuff that helps you be more productive in life.
Labels: learnoutloud, online learning, podcasts, self developement